Biography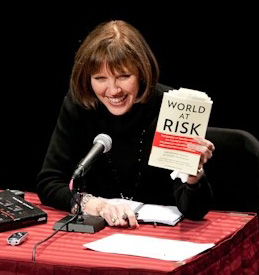 Judith Miller is an author and a Pulitzer Prize-winning investigative reporter formerly with The New York Times.
She is now an adjunct fellow at the Manhattan Institute and a contributing editor of its magazine, "City Journal." Since 2008, she has been a commentator for Fox News, speaking on terrorism and other national security issues, the Middle East, American foreign policy, and need to strike a delicate balance between protecting both national security and civil liberties in a post-9/11 world. She also writes theater reviews for Tablet Magazine.
Prior to leaving The New York Times in November, 2005, she spent 85 days in jail to defend a reporter's right to protect confidential sources. That year she received the Society of Professional Journalists' "First Amendment Award" for her protection of sources. Since leaving jail, she has been advocating the enactment of a Federal shield law to protect the relationship between reporters and their sources and the public's right to know.
She joined the paper's Washington Bureau in 1977, where she covered the securities industry, Congress, politics, and foreign affairs, particularly the Middle East. In 1983, she became the first woman to be named chief of The Times' bureau in Cairo, Egypt, responsible for covering the Arab world. In 1986, she became the Paris correspondent, traveling throughout Europe and North Africa. In 1987 and 1988, she returned to Washington as the Washington Bureau's news editor and deputy bureau chief.
During the Iraq war, she was the only reporter to be embedded for four months with the 75th Expeditionary Task Force, the multi-service unit whose sensitive mission was to hunt for WMD in Iraq.
Before joining The Times, Ms. Miller was Washington bureau chief of The Progressive, a monthly, contributed regularly to National Public Radio's "All Things Considered," and wrote articles for many publications.
Born in New York City, she grew up in Miami and Los Angeles, graduating from Hollywood High School. She attended Ohio State University, Barnard College and the Institute of European Studies at the University of Brussels. She has a bachelor's degree from Barnard and a master's from Princeton University's Woodrow Wilson School of Public and International Affairs.
Ms. Miller has written five books -- two of them number 1 best-sellers -- and contributed chapters to several others. Her most recent book is "The Story, A Reporter's Journey." a memoir focusing on her career and the growing threats to quality journalism. (Simon & Schuster, 2015) Her previous book, is "Germs: Biological Weapons and America's Secret War." (Simon & Schuster, 2001). Written with two Times colleagues, the book topped the best seller's list in the wake of 9/11 and the anthrax letter terrorist attacks. Her previous book, "God Has Ninety-Nine Names," (Simon & Schuster, 1996) explores the spread of Islamic extremism in ten Middle Eastern countries, including Israel and Iran. In 1990, her first book was published: "One, By One, By One," (Simon & Schuster) a highly praised account of how people in six nations have distorted the memory of the Holocaust. That same year, she co-authored "Saddam Hussein and the Crisis in the Gulf," (Times Books, 1990) the first comprehensive account of the Gulf crisis and biography of the man behind it. That, too, was a best-seller which sold over 600,000 copies and topped The Times Best Seller list during the 1991 Gulf war.
In 2002, Judith Miller was part of a small team that won a Pulitzer Prize for "explanatory journalism" for her January, 2001 series on Osama bin Laden and Al Qaeda. That same year, she won an Emmy for her work on a Nova/New York Times documentary based on articles for her book, "Germs." She was also part of the Times team that won the prestigious DuPont award that year for a series of programs on terrorism for PBS's "Frontline." She has discussed a wide range of national security topics on such programs as "Sixty Minutes," Oprah Winfrey, CNN, ABC's "Night Line" and "Good Morning America," NBC's "Today" show, David Letterman, and "The Charlie Rose Show."
She is a member of the Council on Foreign Relations, a former member of the Aspen Strategy Group, and has served on a prestigious National Academy of Sciences panel examining how best to expand of the work of the Cooperative Threat Reduction program, which since 1991 has sought to stop the spread of WMD material and expertise from the Former Soviet Union. She lectures frequently on the Middle East, Islam, terrorism, biological and chemical weapons and other national security topics.
She lives in New York City and Sag Harbor with her husband, Jason Epstein, a publisher and writer.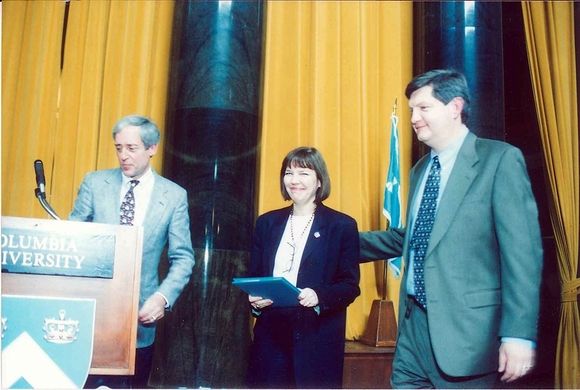 Columbia University President George Rupp (left) presents Judith Miller and Jim Risen of The New York Times, with the 2002 Pulitzer Prize for Explanatory Reporting.